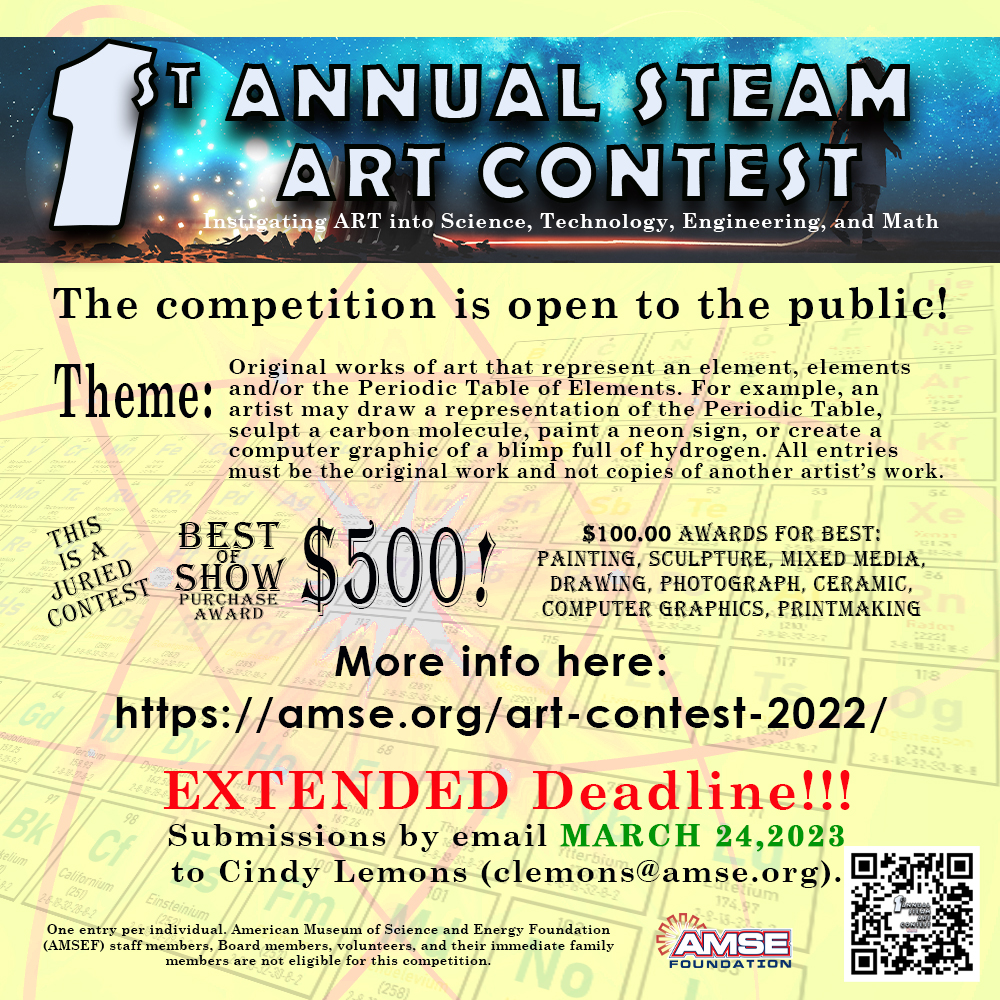 The competition is open to the public. An individual may submit a total of one entry.  American Museum of Science and Energy Foundation (AMSEF) staff members, Board members, volunteers, and their immediate family members are not eligible for this competition. 
Original works of art that represent an element, elements and/or the Periodic Table of Elements. For example, an artist may draw a representation of the Periodic Table, sculpt a carbon molecule, paint a neon sign, or create a computer graphic of a blimp full of hydrogen.
All entries must be the original work and not copies of another artist's work.  Do not submit any work copied from published photographs, magazines, book illustrations, web sites or other art resources.
a. Ceramic,      b. Drawing,      c. Mixed Media,      d. Painting,      e. Sculpture,      f. Computer Graphics,
g. Printmaking,      h. Photography.
All two-dimensional artwork must be framed or matted.
Mats should be white, cream, or black.
Framed canvases must come with all necessary provisions for hanging.
All pastels and charcoals must be sprayed with a fixative.
Artworks can be backed with cardboard.
Ceramics must be properly fired.
Sculptures should be of a reasonable size and individually boxed.
All entries must be sturdy enough to withstand normal handling and display.
Please attach two copies of the entry form to the back of the artwork. One copy of the entry form should be completely attached with tape, and the second copy should be attached so it can easily be removed at judging.
The following information must be included on the entry form: name; address; contact information; type of entry (i.e. painting, sculpture, etc.)
Please write any special instructions on the entry form.
Include a title on the entry form. If the artwork is Untitled, write "Untitled."
Also attach to your entry form a description of your work. If chosen as best in a category, or best in show, your work will be displayed with this description beside it.
If one or more media is used in a Drawing, then it is Mixed Media. In that case, please write out all the different materials used.
If the entrant wishes to be considered for the "Jim Dodson Best-in-Show Purchase Award," that must be acknowledged on the entry form. Please note that the art chosen for this award becomes the property of Jim Dodson.
Judges will evaluate submissions for (a) adherence to the theme; (b) creativity; (c) use of material or medium.
All ages will be judged together.
The decision of the judges is final and not subject to change.
Neither art works nor photos may include sexually suggestive nor obscene or offensive language or depictions.
Any work of art or photo deemed by the judges to be plagiarized or not created by the artist/photographer will be automatically disqualified.
If the entrant wishes, his or her work will be eligible for the "Jim Dodson Best-in-Show Purchase Award" for which the artist receives a $500 cash award. Additional awards will be given to the best of each category. AWARDS CHECKS MUST BE CASHED WITH 30 DAYS OF RECEIVING THE CHECK.
Best in Show
Best Painting
Best Sculpture
Best Drawing
Best Photograph
Best Ceramic
Best Mixed Media
Best Computer Graphics
Best Printmaking
$500
$100
$100
$100
$100
$100
$100
$100
$100
All entries must be submitted by March 24, 2023, along with the entry form.
All submissions must be brought or sent to the American Museum of Science and Energy at 115 Main Street East, Oak Ridge, Tennessee.
Finalists and the winner of the "Jim Dodson Best-in-Show Purchase Award" will be notified by April 10, 2023.
For those not selected, their submissions must be picked up at AMSE by April 30th. If not retrieved by May 1, 2023, they become the property of AMSEF and are subject to use, disposal, or donation.  Identification will be required before the items are released.
AMSEF will have the right to use photos of the awardees' artwork and photos in educational and promotional materials, including AMSEF social media.
Reasonable care of entries will be taken by the American Museum of Science and Energy Foundation, but the staff assumes no responsibility for the loss or damage to entries.